Export Services
Export USA is a consulting company based in New York, USA.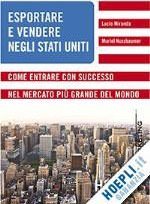 We're proud to announce the release of the Practical guide for export in USA.
The book is written by Lucio Miranda and Muriel Nussbaumer and published by Hoepli Publishing House. You can purchase the book by visiting Hoepli website:

EXPORT AND SELL IN UNITED STATES.
ExportUSA will find for you the most suitable sales agents, representatives, distributors or importers to sell your product in the United States.
ExportUSA is a consulting firm with offices in New York, United States.
We help small- and medium-sized companies sell in and export to the United States, while limiting as far as possible the initial investment, generally through the establishment of a sales network in the United States consisting of independent representatives, business agents or distributors.

We are specialized in the following sectors:
Food products and specialties
Clothes and fashion items
Health and medical devices
Electromedical equipment
Marble, granite and building stones
Machinery
Industrial goods
Chemical products
Pieces of furniture and fittings
Footwear
Household articles and giftware
Exporting to the United States furnishings, furniture, clothing, fashion items, footwear, foodstuffs, giftware, household articles, machinery, cosmetic products, health and medical devices, electromedical equipment, industrial machinery and goods.
The agents and representatives, whom we work with, mainly sell to independent retailers (i.e. retailers having at most three points of sale), even if, in the case - for instance - of giftware and household articles, many of these agents/representatives also sell to department store chains, such as "Macy's", "Sears", "Bed, Bath & Beyond" and the like.
In some sectors, especially those with a high technological content, such as machinery and industrial goods, distribution works otherwise and we mostly work through importers and/or distributors.
Our approach to sales is extremely practical and concrete. It takes into account the specific characteristics of each sector / market / product, is strongly sales-oriented and keeps in mind the typical requirements of small and medium companies that want to export machinery, industrial goods, medical devices, furniture, clothing, foodstuffs, giftware and household articles to the United States.
Product Testing for the United States
We usually advice companies, which want to export convenience goods - such as foodstuffs, clothing and fashion items, giftware and household articles - to the United States, to start by a simple Product Test. This is a simple, quick and inexpensive solution to immediately assess the situation and to help you understand if your company's products may sell well in the United States. Please contact us for further information on Product Testing in the United States, with no obligation whatsoever.
Establishment of a Sales Network in the United States
The next step after product testing is the establishment of a sales network in the United States. Through our network of agents, sales representatives and distributors, we carry out a search for sellers that are willing to represent the product and cover the most suitable areas of the United States.
For a no obligation, free assessment of your products, please send us the contact form. It could be your first step to start exporting to the United States!
---
Tips to export to the United States